Travel by coach
We are delighted to be able to provide direct coach travel to the site on the day of Variable 4 Snape Maltings. Standard-class train tickets are priced at £38 return followed by a 5-mile taxi ride to Snape Maltings, and so this direct return coach means a significant saving — and the fun of a day trip.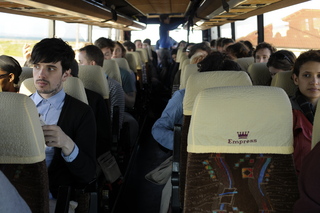 Photo: Andreas Tovan.
From Dungeness installation, May 2010. Travelling direct from London Liverpool Street to the site, the coach timings are as follows, all on Saturday 28 May 2011:
Outwards: From London Liverpool Street at 9.30am
Return: From Snape Maltings at 6.30pm
Return tickets are being priced at £18 per person. Once at the site, access to the installation is free.

Coach travellers may also purchase a discounted copy of a limited run of Variable 4 Snape Maltings artists books, one of a numbered edition of 100: a 36-page full-colour book, detailing the piece's structure, history and score, designed by Joseph Hales and with illustrations by Faye McNulty. These are priced at £4 (normally £5).
---
Booking
Tickets can be booked securely through Paypal (including credit and debit cards) below.
If you are subsequently unable to attend, we can refund tickets; just contact us.
Please enter your name and mobile telephone number below to begin your order — this is in case we need to get in touch on the day, or in case of emergency.