Posts Tagged 'Graph'
Thanks once again to the impressive archival of Romney Marsh Weather, here's a third plot of wind direction data: this time, on a 5-minutely basis, through the entirety of May 2009.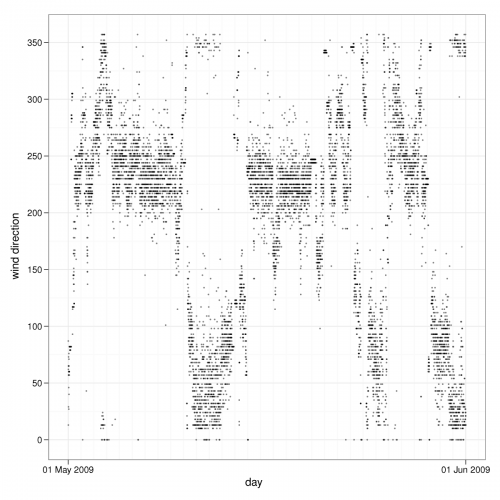 All of these plots have been created with the invaluable R toolkit, with ggplot2 and circstats for polar plots.
As a followup to our earlier post on weather data from Romney Marsh, here's a quick circle plot of the wind direction over the same time period (30 April – 6 May 2010).
It seems to tally pretty closely with the Met Office commentary on southern wind patterns: prevailing south-westerlies from the passing Atlantic depressions, alongside seasonal winds from the north-east due to high pressure over Scandinavia.
In the process of analysing the local weather data to help us anticipate the likely conditions for Variable 4, we have been graphing and visualisating historical data. With the help of statistical techniques such as cluster analysis, this is helping us gain some understanding of how weather conditions are distributed and correlated.
Below are box plots of some of the more prominent conditions, recorded over the past 7 days. These give us some idea of the probable variance of each criterion during a 24-hour period.
Many thanks to Dave at Romney Marsh Weather for the data.