Posts Tagged 'Goldsmiths'
Much of the development of Variable 4 has taken place at Goldsmiths, University of London, split between the multiple studios of the EMS (former home to Daphne Oram and much pioneering electronic synthesis) and the GDS (new home to a cutting-edge motion capture setup with 3D audio and projections). We've also received logistical funding from the Goldsmiths Annual Fund, an excellent endeavour to support a diverse range of projects through alumnal donations.
We thus thought it apt to select Goldsmiths as the site of a showcase and public testbed for the installation, over the course of 6 hours yesterday. This turned out to be an invaluable dry run for the newly-enlarged score and algorithmic setup, and attracted a number of inquisitive visitors.
Over the winter months, we've been working on some blueprints for Variable 4's next steps. We'll shortly be making a formal announcement of what these will be; suffice to say, we're thrilled at where it is going next.
In the meantime, we are talking about the project at this week's Thursday Club, New Cross, an excellent weekly series of talks based at Goldsmiths, University of London.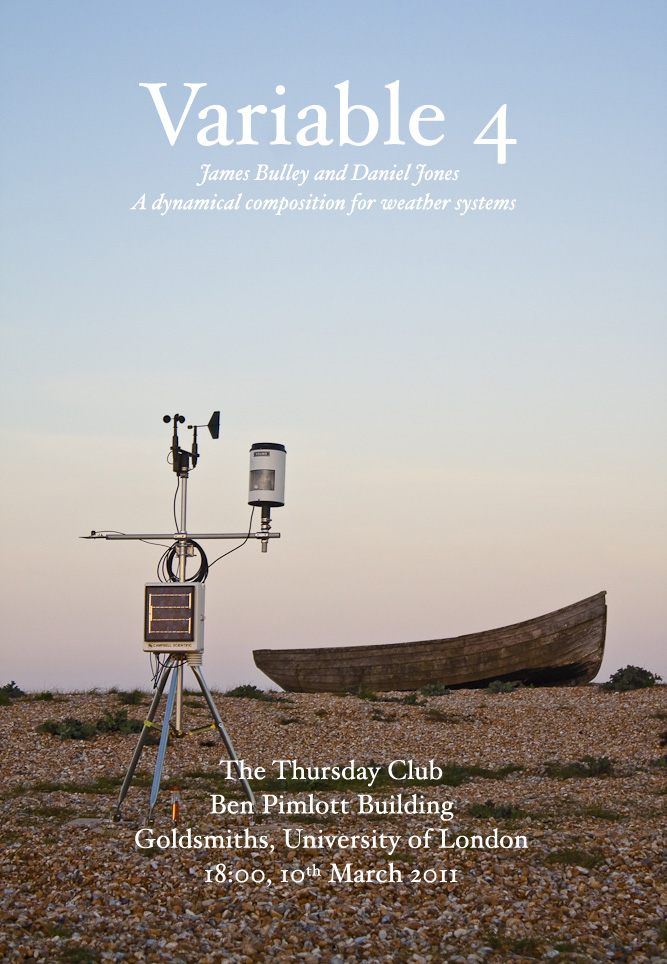 We'll be discussing the genealogy, development and concepts behind Variable 4, talking about how we see it fitting into both its cultural and physical landscape. For those of a technical disposition, we will have a look under the bonnet at how the software infrastructure is wired together. And, most excitingly, we'll be giving a sneak preview of its next appearance.
Hope to see you there.