News Archive
We're delighted to finally bring news of further Variable 4 happenings. This May, almost twelve months on precisely, we'll be taking the piece to new terrain courtesy of Faster Than Sound and Aldeburgh Music.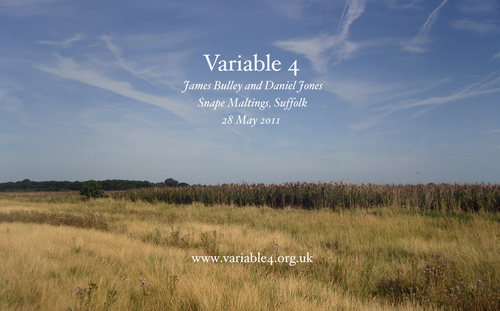 As part of FTS: Soundfields, the work will be alongside as Bruce Gilbert, Beaconsfield ArtWorks and the fantastic Blast Theory, making a triumvirate of immersive sonic art. Sited on the expansive reed fields beyond the Snape Maltings concert hall, Suffolk (local map, google map), it will be in striking contrast to the desolation of Dungeness.
We're currently in the midst of rewriting the score from ground up, developing new algorithmic methods to link together distant parts of the piece, and in the studio with a number of fantastic musicians. More reports on this in the coming weeks.
Finally, we'll be previewing Variable 4 prior to Faster Than Sound with an afternoon-long installation in London. This will be taking place sometime in early May, near to the digital studios at Goldsmiths, University of London. Dates will be confirmed very shortly.
About Variable 4
Variable 4 is an outdoor sound installation that translates live weather conditions into an ever-changing piece of music, using weather sensors and custom software to generate and recombine thousands of musical fragments. Read more about the piece...